Readings:
This commemoration is a 2018 addition to A Great Cloud of witnesses.
Return to Lectionary Home Page
Webmaster: Charles Wohlers
Last updated: 19 Jan. 2019

TORIBIO OF MOGROVEJO
ARCHBISHOP, 1606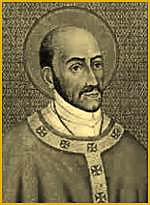 Toribio Alfonso de Mogrovejo (16 November 1538 – 23 March 1606) was the Archbishop of Lima from 1579 until his death. He first studied in the humanities and law before serving as a professor and later as the Grand Inquisitor at the behest of King Philip II. His piousness and learning had reached the ears of the king who appointed him to that position which was considered unusual since he had no previous government or judicial experience. His noted work for the Inquisition earned him praise from the king who nominated him for the vacant Lima archdiocese, though he was not yet a priest. Accordingly, he was ordained to the priesthood in 1578 and was later consecrated as an archbishop in 1580 before setting off for Peru to begin his mission. He was a noted and charismatic preacher who set about baptizing and catechizing to the natives while confirming almost half a million people; those included Rose of Lima and Martin de Porres.
The archbishop was a staunch advocate for archdiocesan reform and set to work reforming the diocesan priests while instituting new educational procedures for seminaries. He built roads and schoolhouses as well as chapels and hospitals. In 1591 founded the first seminary in the western hemisphere and mandated that learning indigenous languages was a prerequisite in their formation. He was seen as a champion of the rights of the natives against the Spanish masters. He learnt the local dialects for better communication with the native people and his own flock and was seen as a champion for rights and liberties despite Peruvian governors voicing opposition to him since he challenged their power and control.
more at Wikipedia