Readings:
Psalm 119:113-120
Job 22:21-30
Revelation 3:1-6
Matthew 23:34-39
Preface of All Saints
[Common of a Martyr]
[Common of a Prophetic Witness]
[Common of a Pastor]
[Of the Holy Cross]
[For a Prophetic Witness in the Church]

PRAYER (traditional language)
Faithful God, who didst give Jan Hus the courage to confess thy truth and recall thy Church to the image of Christ: Enable us, inspired by his example, to bear witness against corruption and never cease to pray for our enemies, that we may prove faithful followers of our Savior Jesus Christ; who liveth and reigneth with thee and the Holy Spirit, one God, for ever and ever. Amen.

PRAYER (contemporary language)
Faithful God, you gave Jan Hus the courage to confess your truth and recall your Church to the image of Christ: Enable us, inspired by his example, to bear witness against corruption and never cease to pray for our enemies, that we may prove faithful followers of our Savior Jesus Christ; who lives and reigns with you and the Holy Spirit, one God, for ever and ever. Amen.

This commemoration appears in A Great Cloud of Witnesses.
Return to Lectionary Home Page
Webmaster: Charles Wohlers
Last updated: 4 May 2019

JAN HUS
PRIEST and MARTYR, 6 July 1415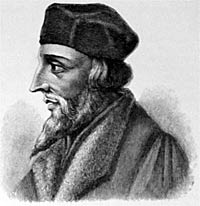 John Huss (Jan Hus) was born in Bohemia (now part of the Czech Republic) in about 1371. He received a master's degree from Charles University in Prague in 1396, became a professor of theology in 1398, was ordained to the priesthood in 1400, was made rector of the University in 1402, and in 1404 received a bachelor's degree in theology (presumably a more advanced degree than the term suggests today).
In his day, there was a crisis of authority in the Western Church. In 1305, under pressure from the King of France, the seat of the Popes was moved from Rome to Avignon in France, where it remained for 70 years. (This period is called the Babylonian Captivity of the Papacy, suggesting the 70 years that Jerusalem lay desolate after when the Jews were deported to Babylon.) In 1376, the then pope returned to Rome. When he died soon after, the cardinals, mostly French, were disposed to elect a French Pope, but the people of Rome objected, fearing that a French Pope would move the Papacy back to France. The cardinals therefore elected an Italian Pope, and then fled elsewhere, where they elected a French Pope and said that the first election had been under duress, and was void. Thus there were two (later three) claimants for the Papal Office. The Council of Constance was called to settle the matter. One claimant recognized the Council and then abdicated. The Council responded by proclaiming that he had been the true Pope. It then deposed the other two, and elected a new Pope, thus healing the schism.
Meanwhile, Hus had begun to denounce various church abuses in his sermons. His disputes with authority did not concern basic theological issues, but rather matters of church discipline and practice. The custom had arisen, at celebrations of the Lord's Supper, of distributing the consecrated bread to all Christians in good standing who desired to receive it, but restricting the chalice to the celebrant alone. Hus denounced this restriction as contrary to Holy Scripture and to the ancient tradition of the Church. He also held that Church officials ought to exercise spiritual powers only, and not be earthly governors. In 1412 his archbishop excommunicated him, not for heresy, but for insubordination. (The real problem was that Hus supported one papal claimant and the archbishop another. Hus's candidate was ultimately declared to be the true pope.) Matters came to a head when one claimant (later declared unfit) proclaimed a sale of indulgences to raise money for a war against his rivals. Hus was horrified at the idea of selling spiritual benefits to finance a war between two claimants to the title "Servant of the Servants of God," and said so.
In 1414 he was summoned to the Council of Constance, with the Emperor guaranteeing his personal safety even if found guilty. He was tried, and ordered to recant certain heretical doctrines. He replied that he had never held or taught the doctrines in question, and was willing to declare the doctrines false, but not willing to declare on oath that he had once taught them. The one point on which Hus could be said to have a doctrinal difference with the Council was that he taught that the office of the pope did not exist by Divine command, but was established by the Church that things might be done in an orderly fashion (a view that he shared with Thomas More). The Council, having just narrowly succeeded in uniting Western Christendom under a single pope after years of chaos, was not about to have its work undone. It accordingly found him guilty of heresy, and he was burned at the stake on 6 July 1415.
After his death, his followers continued to insist on the importance of administering the Holy Communion in both kinds, and defeated several armies sent against them. In 1436 a pact was signed, by which the Church in Bohemia was authorized to administer Chalice as well as Host to all communicants. The followers of John Huss and his fellow martyr Jerome of Prague became known as the Czech Brethren and later as the Moravians. The Moravian Church survives to this day, and has had a considerable influence on the Lutheran movement. When Luther suddenly became famous after the publication of his 95 Theses, cartoons and graffiti began to appear implying that Luther was the spiritual heir of John Huss. When Luther encountered the Pope's representative Johannes Eck, in a crucial debate, Eck sidestepped the questions of indulgences and of justification by faith, and instead asked Luther whether the Church had been right to condemn Hus. When Luther, after thinking it over, said that Hus had been unjustly condemned, the whole question of the authority of Popes and Councils was raised.
— by James Kiefer