Readings:
Psalm 101:1-4
Nehemiah 12:27-31a, 43
2 Thessalonians 2:13–3:5
John 16:16-22

Preface of a Saint (3)
[Common of a Prophetic Witness]
[Common of an Artist, Writer, or Composer]
[For Vocation in Daily Work]
[For Artists and Writers]
[For Prophetic Witness in Society]

PRAYER (traditional language)
God of new life in Christ: We remember the bold witness of thy servant Nicolaus von Zinzendorf, through whom thy Spirit moved to draw many to faith and conversion of life. We pray that we, like him, may rejoice to sing thy praise; through Jesus Christ our Lord, who liveth and reigneth with thee and the Holy Spirit, one God, now and for ever. Amen.
PRAYER (contemporary language)
God of new life in Christ: We remember the bold witness of your servant Nicolaus von Zinzendorf, through whom your Spirit moved to draw many to faith and conversion of life. We pray that we, like him, may rejoice to sing your praise; through Jesus Christ our Lord, who lives and reigns with you and the Holy Spirit, one God, now and for ever. Amen.

This commemoration appears in A Great Cloud of Witnesses.
Return to Lectionary Home Page
Webmaster: Charles Wohlers
Last updated: 10 March 2019

NIKOLAUS LUDWIG von ZINZENDORF
PROPHETIC WITNESS, 1760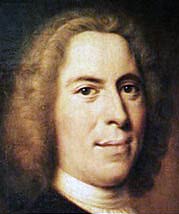 Nikolaus Ludwig von Zinzendorf und Pottendorf, Imperial Count of Zinzendorf and Pottendorf, (May 26, 1700 – May 9, 1760), German religious and social reformer and bishop of the Moravian Church, was born at Dresden.
Zinzendorf had a naturally alert and active mind, and an enthusiastic temperament that made his life one of ceaseless planning and executing. Like Martin Luther, he was often influenced by strong and vehement feelings, and he was easily moved both by sorrow and joy. He is commemorated as a hymnwriter and a renewer of the church by the Evangelical Lutheran Church in America on May 9.
Zinzendorf had previously, in deference to his family, who wished him to become a diplomat, rejected the invitation of August Hermann Francke to take Baron von Canstein's place in the Halle orphanage; and he now resolved to settle down as a landowner, spending his life on behalf of his tenantry. He bought Berthelsdorf from his grandmother, Baroness von Gersdorf and began building his home.
His intention was to carry out into practice the Pietist ideals. He did not mean to found a new church or religious organization distinct from the Lutheranism of the land, but to create a Christian association the members of which by preaching, by tract and book distribution and by practical benevolence might awaken the somewhat torpid religion of the Lutheran Church. The "band of four brothers" (Rothe, pastor at Berthelsdorf; Melchior Schäffer, pastor at Görlitz; Friedrich von Watteville, a friend from boyhood; and himself) set themselves by sermons, books, journeys and correspondence to create a revival of religion, and by frequent meetings for prayer to preserve in their own hearts the warmth of personal trust in Christ. From the printing-house at Ebersdorf, now in Thuringia, large quantities of books and tracts, catechisms, collections of hymns and cheap Bibles were issued.
A dislike of the dry Lutheran orthodoxy of the period gave Zinzendorf some sympathy with that side of the growing rationalism which was attacking dogma, while at the same time he felt its lack of earnestness, and of a true and deep understanding of religion and of Christianity, and endeavoured to counteract these defects by pointing men to the historical Christ, the revelation of the Father. He seems also to have doubted the wisdom of not separating from the Lutheran Church, and began to think that true Christianity could be best promoted by free associations of Christians, which in course of time might grow into churches with no state connection. These thoughts took a practical turn from his connection with the Bohemian or Moravian Brethren. Zinzendorf offered an asylum to a number of persecuted wanderers from Moravia and Bohemia, (part of Czech Republic today), and permitted them to build the village of Herrnhut on a corner of his estate of Berthelsdorf.
Zinzendorf devoted himself to them. He, with his wife and children, lived in Herrnhut and brought Rothe with him. Gradually Zinzendorf was able to organize his refugees into something like a militia Christi, based not on monastic but on family life. However his ideas of family were centered not on a traditional nuclear family of parents and children. Indeed, he wanted to break traditional family bonds by organizing communal families based on age, marital status and gender. These communities, such as Bethlehem, Pennsylvania, were designed for the sole purpose of serving Christ, who also was considered to be the community leader. Zinzendorf was also able to establish a common order of worship in 1727, and soon afterwards a common organization. He was consecrated a bishop at Berlin on 20 May 1737 by Bishops David Nitschmann and Daniel Ernst Jablonski.
Zinzendorf took the deepest interest in mission. He travelled widely, visiting America in 1741-42 and spending a long time in London in 1750. Missionary colonies had by this time been settled in the West Indies (1732), in Greenland (1733), amongst the North American Indians (1735); and before Zinzendorf's death the Brethren had sent from Herrnhut missionary colonies to many other places throughout the known world.
Zinzendorf, overcome with his labours, fell ill and died on 9 May 1760, leaving Bishop Johannes von Watteville, who had married his eldest daughter Benigna, to take his place at the head of the community.
— more at Wikipedia
Additional information on Count von Zinzendorf may be found at a website devoted to him